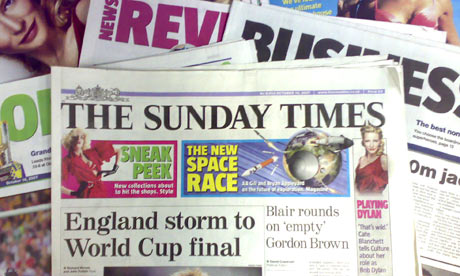 I'm pretty sure that there was someone famous (who's name I have forgotten) who said something like "stealing from a single source is called plagerism, but stealing from multiple sources is called research."
Whoever said it was obviously some smart fella who knew his stuff.
It is all pretty appropriate at the moment as the sands slip through the glass towards my session at the
Oundle Festival of Literature
. If anyone is actually reading this still, this takes place at the Sir Peter Scott Building, Oundle School on 7th March 2009 at 13:00 (thats 1pm in old money.) See the web site for booking details.
With that session on blogging rapidly approaching, it was with great fortune that one of my contacts from the days when I was interesting on 360 surfaced on Multiply. It seems that
Neil (aka nomadtraveller)
is not only well travelled, but he gets time to read the weighty Sunday papers. I guess you have to find something to do when you spend so much time in airport departure lounges.
It seems that there is a huge aid to my research published in this week's hernia inducing edition,
part one of the 100 top blogs by Bryan Appleyard
.
Very useful and very interesting - probably the kind of thing that Yahoo 360 had in mind when they started their interesting list and instead they got me! Never mind, I guess that one day they will learn!
It looks like there is a useful mine of information there just waiting for a claim jumper to devour.
As my lunch hour is almost over, I hadn't got much time for
additional research
, but suffice to say, I had a little surf. Have a go, you'll like it, not a lot, but you'll like it. (I'm sure it used to be his catch phrase, but if it ain't he'll never find me).
Also, I learned something. I wouldn't have believed it, but Paul Daniels is 70! He doesn't look it. Hasn't he worn well? (No, wait, that catchphrase was somebody else).